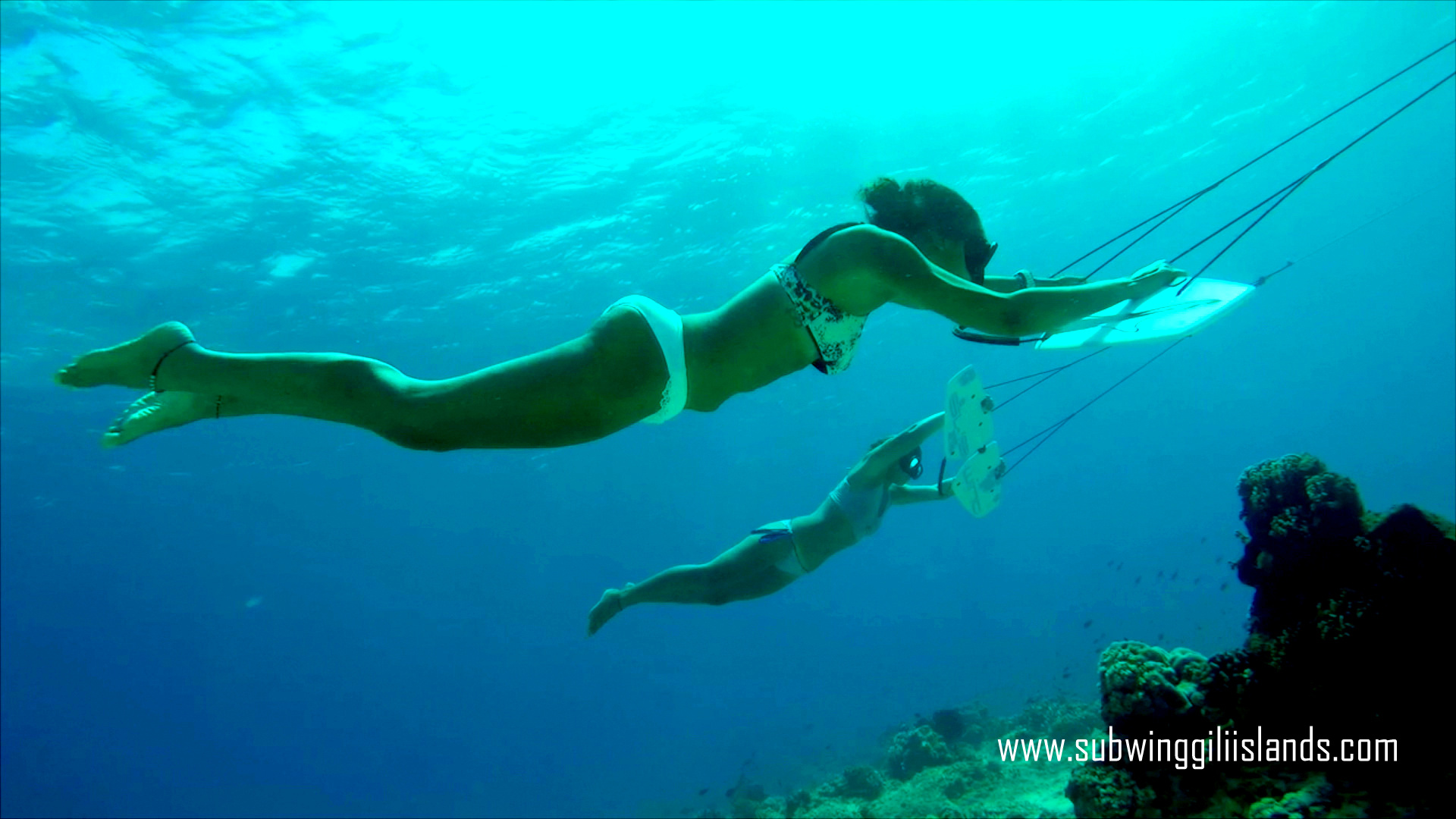 The Fun of Subwing in Gili Trawangan – Don't Miss It!
I first saw Subwing on Instagram. Beautiful, underwater photos and videos, captured in Gili Trawangan, completely got my attention. Our list of 10 Best Things to Do in Gili Trawangan was published already, but Subwing would definitely make our list!
Subwing invention
Subwing is an invention of a 16-year-old Norwegean boy who got inspired by the clear waters of Greece. Diving there almost felt like flying and Simon wanted to get the full experience. For this, he needed something that would reflect the speed and thrill of having actual wings.
This led to the construction of the first Subwing using chopping boards and garden hose connector links. Since then, Subwing went through many more prototypes to join the great family of water sports.
Gili Trawangan
Gili Trawangan is very lucky as it is the only certified place to enjoy Subwing in Southeast Asia. So, if you're coming here, make sure to catch this opportunity and have a go at this unique and rare water sport! Who knows? You might fall in love. I certainly did.
It is very easy to book your Subwing experience when staying Villas Edenia Resort in Gili Trawangan. Just let us know that you're interested and we'll take care of all the arrangements.
What to expect with Subwing adventure?
The boat for Subwing experience leaves at 9:30 AM from one of the diving centres in Gili Trawangan, so we had to get there before that time. We chose to go for a stroll through the coconut plantation and the village, but the Front Desk can order a cidomo (a small horse-cart used in Gili Trawangan) for you, or you can also rent a bike.
The diving centre was bustling with life as the daily operations have already started. A group of people was getting ready for scuba-diving, while we followed our guide, Ham, to another boat.
On the way to the "flying" location, we were instructed how to use Subwing as well as about the safety procedures. The twistable joint of Subwing allows the wings to move in different directions, which gives you an incredible freedom of movement underwater, and you can not only "fly" up and down like a dolphin, but you can also spiral and rotate. You can even stand on the wing and be pulled like with waterski, the only difference is everything is happening underwater.
Is Subwing a little too much for me?
At first, the briefing information seemed a little overwhelming since I've never tried Subwing before, but as soon as I jumped into the sea, I stopped caring. In the worst case scenario, it's possible to simply remain on the surface and enjoy the underwater views from there. But doing only that means you will miss all the fun, which comes with using Subwing!
So, without any further ado, I pressed the Subwing and dived. OMG! In an instant everything around me changed. All sounds disappeared and the drag, coming from being pulled on the surface, faded. Suddenly, I felt light and synced with nature as I have never before. No more clumsy scuba-diving gear, no more dead-slow snorkelling pace – I was immersed into a truly unique experience.
What's next?
Doing this adventure with Ham means that you will have two Subwing sessions of about 25-minutes each. For me, the first one was more focused on testing the wing, seeing how to operate it and what it can do. By the end of the first session, I was experiencing Subwing's dolphin-style without an effort.
After the very first 10 minutes, you will have a Subwing guide jump into the water and demonstrate how to use it. It was quite incredible to see him move with such finesse. It was like Cirque du Soleil under water! I could use Subwing any day simply to see this performance.
Excited by this vision, the next session with Subwing was even more daring. You'll want to try doing all the things you saw just a moment ago, and really, even though mine lacked the grace of the guide's, it was a lot of fun to do them!
Snorkelling for the lazy
I heard this description of Subwing when I started asking around about this water sport. Having tried it, I can understand how this could be seen that way. During the Subwing sessions, I saw about 15 turtles! I've never seen so many turtles in one go before. It's because they're in different places, and the boat pulls you across a much larger area than when you snorkel or scuba-dive, so you get to see much more.
However, Subwing is simply too cool to limit it to a snorkelling adventure because all the fun is in actually using Subwing. Twisting and turning and feeling weightless for once in my life.
Subwing is an amazing way to experience the sea. This water sport is easy to learn and I would gladly do it for a few days in a row, simply to have all this fun again and again. I can't wait to go back to Gili Trawangan and do the Subwing again!
Author description