Facilities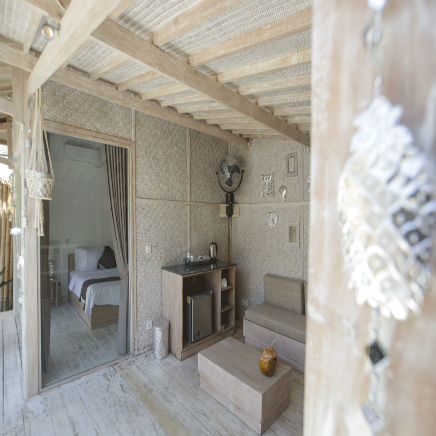 Villas Edenia Resort offers their guests a unique chance to relax and recover from the stress of daily life, immersing them into lush nature and beautiful surroundings.
Everything in our small luxury resort in Gili Trawangan is crafted around making your life easier and your holidays better. With this in mind, our villas have spacious living area where you have tea and coffee making facilities and a fully stocked fridge. The living area is a perfect place to eat, read, sunbathe or relax in a private swimming pool.
If you get tired of the everlasting sunshine, be sure to find your breath in the air-conditioned bedroom where you can enjoy a TV with a satellite range of channels, including HBO and world-class news. Our resort of gets Wi-Fi coverage, so doing some Internet surfing in the comfort of your new home has not been easier.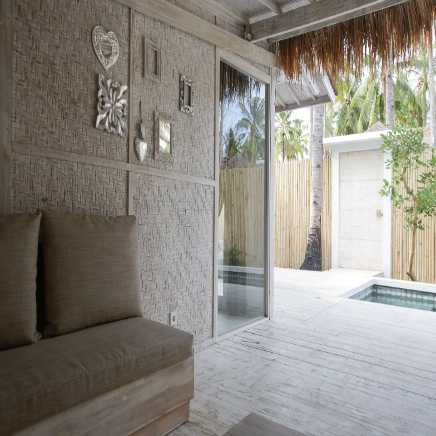 The interior design of the Villas pays attention to keeping clutter out of your way, and functional walk-in wardrobes provide space where you can keep your luggage and clothes, adding to a home-away-from-home feeling.
Every bedroom in our Villas is equipped with a private indoor-outdoor bathroom where you can enjoy the sight of coconut palm or bright stars while you're taking a refreshing shower.
Our mission to create a luxurious, ecological and uplifting place for spending holidays does not end with the design of the villas. It was one of our main concerns to prepare surroundings that will marvel our guests. With this in mind, we set out to gather unique home décor from Bali, Lombok and Java.
The local art traditions of these three islands converge at Villas Edenia and the highlight of the art display at our resort are the art works of a young Javanese-Balinese artist, Aqil.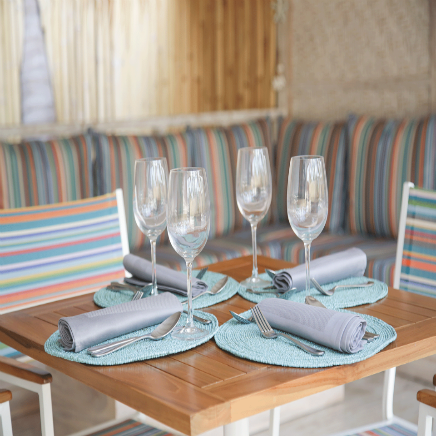 In this regard, Villas Edenia became a semi-art gallery where you can appreciate different local craftsmanship as well as art works of a young talent scouted in the midst of Bali.
One of the pleasures of life, which we are especially drawn to, is food and we made sure that the restaurant at Villas Edenia has skilled chefs able to prepare Mediterranean delicacies to the resort's guests as well as walk-in explorers. Our restaurant menu is a delicious journey around the Mediterranean Sea with dishes coming from Greece, Italy, France and Spain with a touch of Northern African influence.
We went above and beyond to make sure that our guests will completely spoil their taste buds when dining at Edenia Restaurant and we are not only baking our own bread and French baguettes, but also croissants and various kinds of pastry.
When staying at Villas Edenia for the night, you can be sure that all this, and more, is available for your in-room dining service.