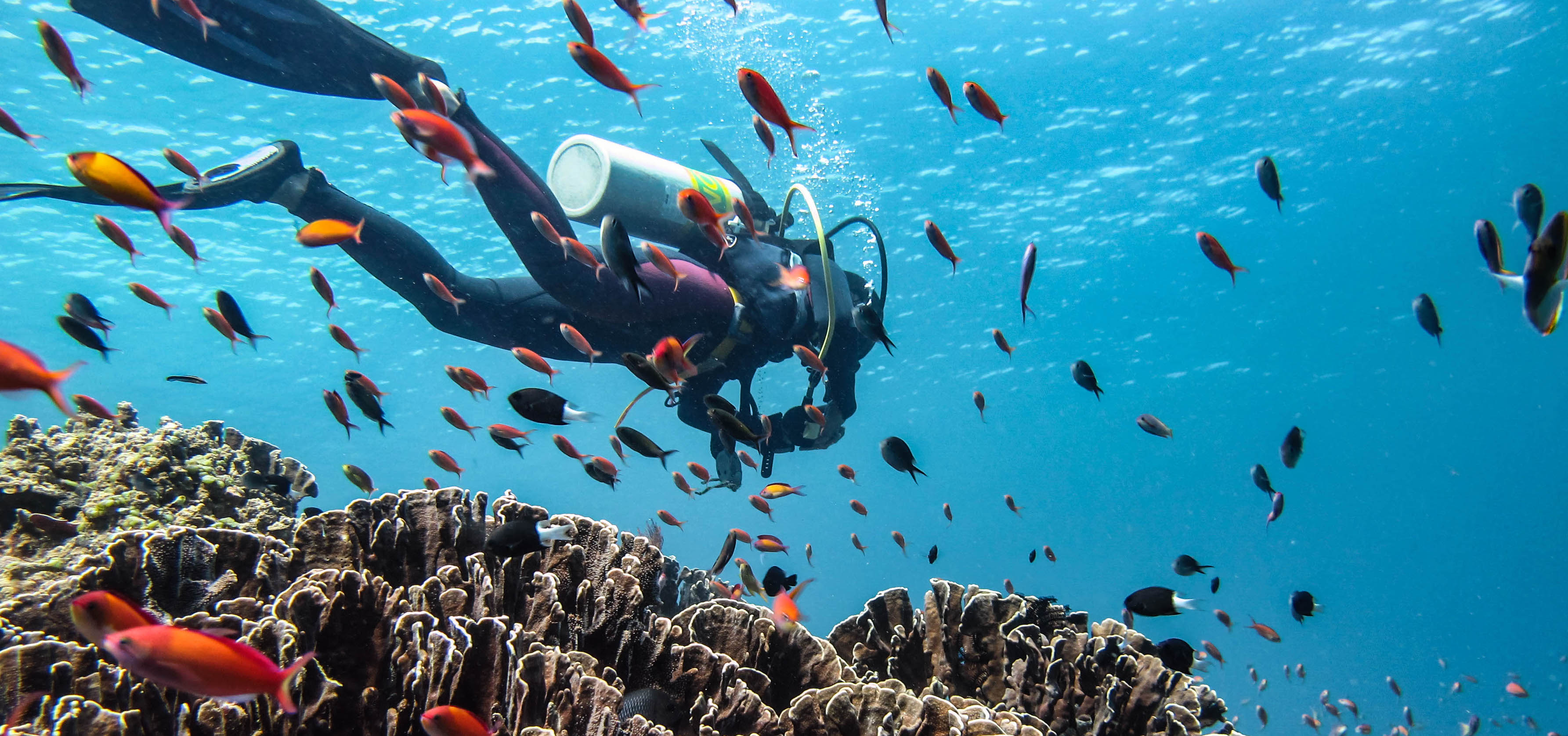 Top 5 Scuba Diving Sites in Gili Trawangan
Gili Trawangan makes for a great diving experience for all – from first-time novice to seasoned scuba enthusiast. The Gili Islands are a great place to learn the basics and, arguably, offers the most accessible diving in Indonesia.
There is no need for a long boat trip to far-flung reefs. You are just minutes away from plunging drop offs, canyons and colourful plateaus. All of them are populated by mantas, reef sharks, stingrays and minute macro life such as pipefish and luminous nudibranchs. In fact, you are no more than a 20-30 minute boat ride away from more than 20 dive sites.
Unlike other well-known scuba spots in Southeast Asia, it's a year-round experience with rewarding diving (on less crowded reefs). Seasonal highlights include the occasional whale shark and vast schools of mind-blowing bumphead parrotfish.
The 20-plus dive sites offer incredibly diverse underwater topography, home to a spectacular array of exotic marine life. There is also a submerged wreck for the more adventurous divers just minutes away from the island. Ranging from 5 metres to 40 metres in depth, there is something to thrill every level of diver.
There are numerous accredited PADI or SSI dive schools on Gili Trawangan. You can choose from a wide range of scuba courses: short introductory sessions, open water courses, divemaster certifications and speciality courses including rescue diver, nitrox and underwater photography. Freediving has also caught on in a big way in the Gili Islands in the past few years. There are options for daring divers keen to go deep without a tank on a single intake of air. It's quite literally a breathless experience.
Every one of the dive shops on Gili Trawangan caters to all levels concurrently. Because of that, groups of divers at different levels of expertise can be handled with ease. But which dive operator is best for you? All operate to consistently high standards but each has its own distinct atmosphere: from a lively youthful vibe with a full après-dive social scene to a more laid-back experience.
Contact Villas Edenia for the lowdown on the very best options and to seamlessly organise your Gili diving vacation.
The Gili Eco Trust and Coral Regeneration
Even before scuba divers discovered the Gili Islands, the reefs surrounding the islands had been impacted by destructive fishing methods. From its very early days, diving here has been the mainstay of Gili Trawangan tourism. Thankfully, the fragile underwater ecosystem has always been a valued resource that deserves protecting.
For nearly two decades the Gili Eco Trust has been the guardian of the surrounding ocean and reefs. The organisation initiated a range of coral regeneration projects and education. A reef tax paid by each diver helps fund weekly beach clean-ups and the installation of new 'biorock' artificial reefs. This ensures that the divers can experience the underwater beauty with a clear conscience.
Top 5 dive sites in Gili Trawangan
Shark Point:
A great dive site for all levels, Shark Point is hard to beat for up-close encounters with larger marine life. As the name suggests, basking reefs sharks are in abundance, along with stingrays and cuttlefish. In the shallows, you will usually see turtles. It has a gently sloping reef that drops to a series of ridges and valleys along the length of the shoreline. Due to the sheer variety of life, it is among the most popular dives in the Gilis and can get busy. Just off Shark Point is the Glen Nusa, a new wreck dive submerged at 28 metres.
Hans Reef:
Situated off the eastern coast of Gili Air, there is a fabulous array of sea fans and macro life including frogfish, seahorses and pipefish. It's among the best spots for macro photographers keen to get close ups of smaller sea critters. Starting off with a gently sandy slope, it is ideal for first-timers as well as seasoned divers and is also one of the more popular night dive spots.
Halik Reef
Halik is a deservedly popular spot for both shallow and deep dives. It has a visually stunning reef which is home to mind-boggling diversity in the right conditions. Ranging from 10-35 metres, giant morays, octopus and large cuttlefish call it home, as well as a wide array of smaller reef fish. Due to its diversity, the shallow reef is a popular spot for Open Water students.
Malang Reef:
Malang Reef offers the real deal for advanced divers with mantas, reef sharks, blue spotted stingrays and scorpion fish. The giant sponges here drop down to a depth of about 35 metres.
Deep Turbo:
A site for advanced divers only, there is an excellent variety of corals and colourful sea fans. Leopard sharks and giant rays are often seen basking in the overhangs along with schools of barracuda. It features a sandy bottom with sea mounds.
When planning your perfect holidays, make sure you will stay in Paradise. Enjoy private villas in a tropical garden of Villas Edenia.
Book your holidays here.
Author description