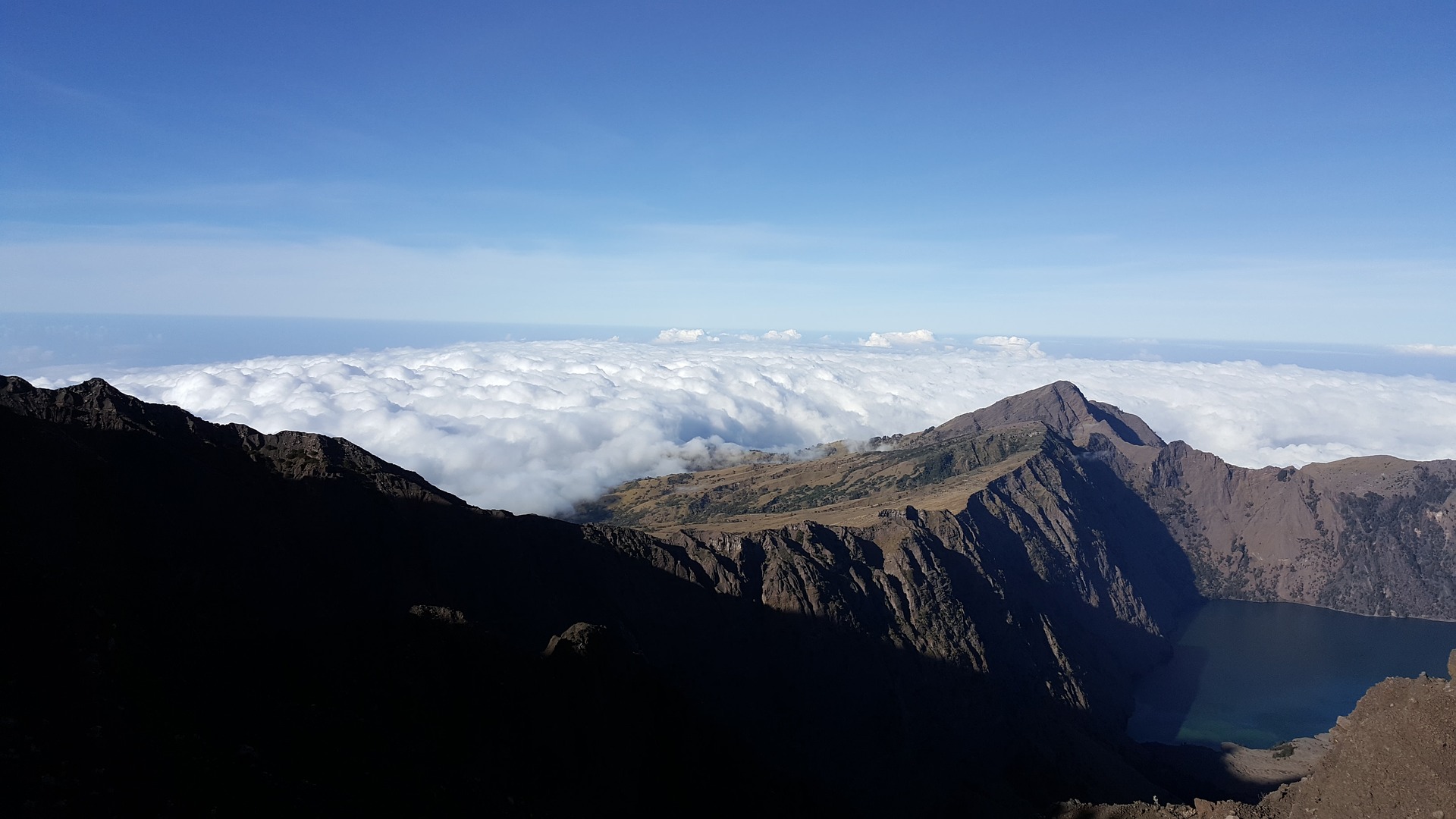 Climbing Mount Rinjani from Gili Trawangan
Mount Rinjani – A dreamy volcano
The majestic Mount Rinjani volcano towers over Lombok and dominates the northern portion of the island. Soaring to 3,726 metres, this is the second highest volcanic peak in Indonesia and can be seen from virtually every vantage point on Lombok, as well as from the Gili Islands, West Sumbawa and elevated points in Bali. It doesn't require expert mountaineering skills to scale but you should still expect a fairly strenuous 2-4 day trek up and down again.
Arguably, the highlight is not the summit itself but the huge crater lake and hot spring where it is possible to take a refreshing dip or even go fishing at almost 3,000m above sea level! It takes up a portion of the active volcano's caldera, which is an awesome 6km by 8km in size. It's a true eye-opening vision nestling in the clouds.
While many trekkers finish their climb here, those with the stamina to make it all the way to the very top (another 1,000m) will be rewarded with bucket list-worthy views above the clouds stretching as far as the island of Java in the west and Sumbawa in the east. As far as eco-adventures go, this is among the most spectacular experiences Indonesia has to offer.
Best time to visit Mount Rinjani
Rinjani is only open for trekking during the April-November dry season and porters and guides are mandatory. This allows you to concentrate solely on the climb with just a small backpack containing essential snacks, liquids and camera while these wizened men do all the heavy lifting.
All guides are certified by the Licensed Guide Association and virtually know every square inch of the mountain, although most work on a freelance basis and may not necessarily be affiliated to any specific trekking operator. The options are twofold: a private expensive trek for single climbers or couples, or as part of a small group, usually numbering around six.
How to get there?
Booking a trek in Gili Trawangan is relatively simple and our team at Villas Edenia can help you do that. There is a variety of customized options available including boat and road transfers, pre-trek accommodation in the Rinjani National Park and post-trek tours and activities if required.
Gili Trawangan is also the best base for treks as there is always a steady stream of travellers keen to climb, ensuring lower prices for all by sharing costs as part of an organized group. Once you get over the euphoria of scaling Indonesia's second highest volcano, the sugary white sandy beaches of the Gilis will help you relax and rest those tired bones.
Which Base Camp?
You basically have a choice of two routes: from the village of Senaru or the Sembalun Lawang ascent route, both of which meet at the crater lake campsite at an altitude of 2,600m.
Senaru
The laid-back mountain village of Senaru is the more popular option and is home to a greater variety of guest houses and stores stocking those essentials you'll need for the next 2-4 days on the mountain.
This route is also slightly less strenuous, beginning under the shade of dense rainforest clad foothills. It climbs above the treeline at about 2,000 metres before the going gets more arduous up steeper gravel paths to the campsite just below the crater rim. Here, you can also enjoy some amazing waterfalls.
Sembalun Lawang
Starting at an altitude of about 1,000m, the climb begins at the Rinjani Trek Centre in the village and starts off reasonably easily through well-worn paths traversing the grassy foothills. There is some tremendous scenery to soak up too with sweeping views as you make your way gradually upwards.
Then it becomes a little more gruelling as you reach the winding volcanic gravel paths which have lung-busting steep gradients. Expect plenty of rest breaks to take in liquids. You'll toil at a slow and steady pace and the afternoon heat can be fierce, so investing in a wide rim hat is definitely a must.
At the Crater Rim
As the sun slowly sinks below the horizon, all that superhuman effort suddenly becomes worthwhile. You have now reached the caldera and the vast expanse of the stunning turquoise-green crater lake. You'll see the gently smoking cone of Gunung Barujari by the lake and quite possibly the flickering lights of the three Gili Islands in the distance.
Now, it's time to rest easy with a campfire meal expertly whipped up by your porters (who have already pitched your tents in no time while you were taking in the views and massaging those tired limbs.)
If the ultimate mission is to reach the summit, then retire early in readiness for a 3:00 am start to complete the last 1,000m. The goal is to reach the top by sunrise so you have a fairly strenuous three hours scrambling over an uneven volcanic rock in the darkness. The awesome vistas – and of course a sense of real achievement – make every footstep worthwhile.
What to Bring
Organized treks include all camping equipment and food, and it is possible to rent various items of windproof clothing.
Don't forget to bring: flashlight (fully charged or with additional batteries), water bottle, basic toiletries, insect repellent, basic first aid kit, sun cream and lip balm, hat, sturdy walking boots, windproof jacket and pants, and plenty of energy boosting drinks and snacks!
Rinjani for non-climbers
For people who do not have a head for heights, the National Park is still a great place to come for the cool air and the laid-back pace of life in Rinjani's foothills. There are amazing low altitude soft trekking opportunities within the Rinjani National Park with hidden waterfalls, rice paddies, the rainforest and sleepy weaving villages to discover on relaxing hikes. Other options include offroad biking, jeep safaris through the rainforest and even paragliding high above Sembalun Valley.
And if you're not so excited about conquering volcanoes, you can always stay in Gili Trawangan and enjoy the simple life in paradise.
Author description